"Hedged in by city streets and tradition blest, lies a sleeping township long since silenced into rest"
                                                     — Elfrida DeRenne Barrow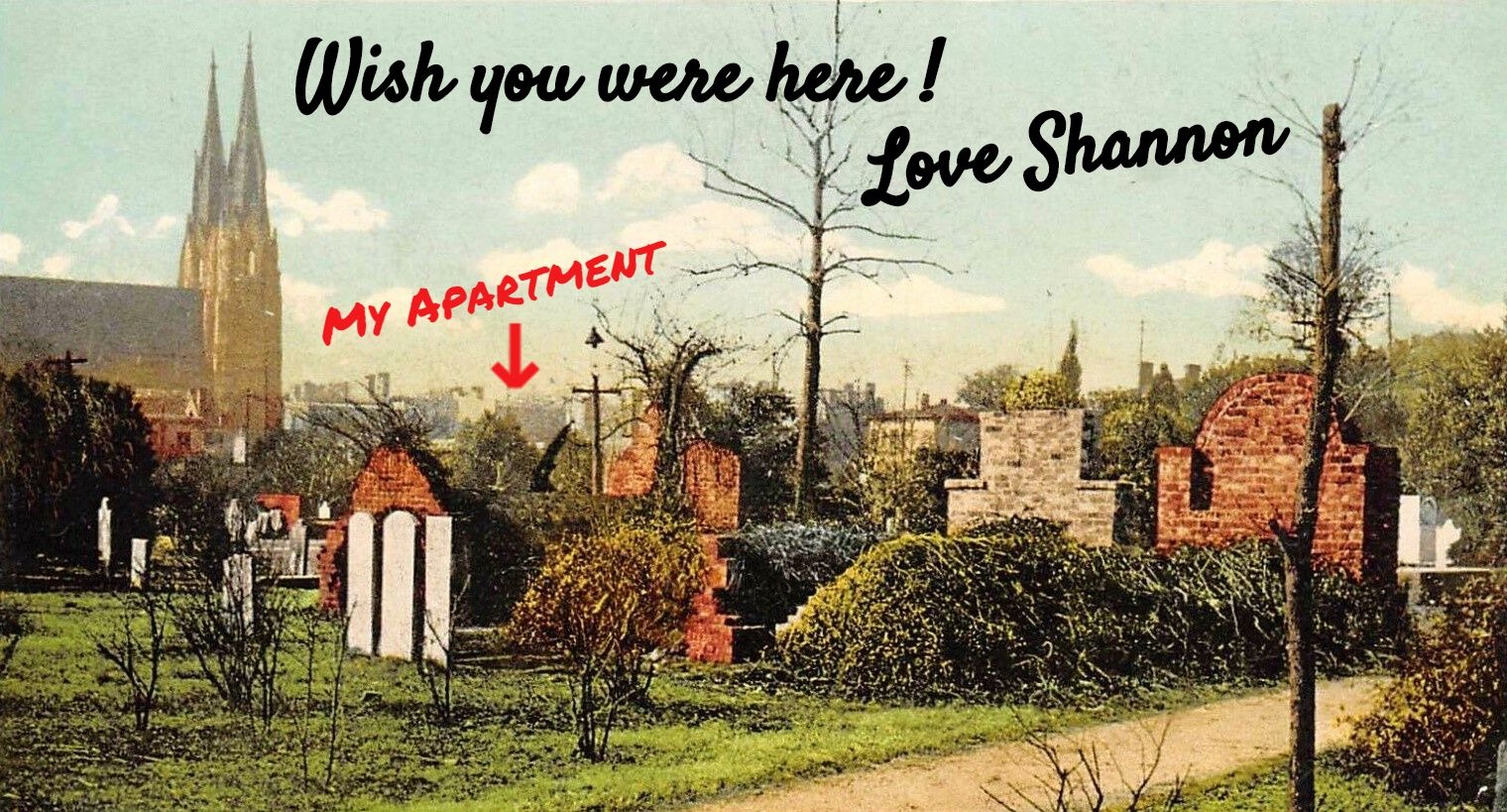 In many ways, I chose to move to Savannah 32 years ago because of this very special burial ground. No fooling. The decision was made one late spring evening while sitting directly below the low hanging branches of a live oak, arms stretched out on the back of a cemetery bench. I recall sliding down in my seat a bit and leaning my head comfortably so I could stare up through the giant tree branches at the stars above, and then I exhaled, making myself one with the place. I felt at home. Like I'd made it.
My parents and brother were sleeping in the nearby DeSoto Hilton hotel, and per my nighthawk habits, I let myself out and wandered over to Colonial Park Cemetery. It was fascinating to me that it was open all night. We were here visiting The Savannah College of Art & Design, and while they had granted me a handsome scholarship for the study of Fine Arts, the cemetery is what really sealed the deal.
Although I had not verbalized it while inside of the experience, looking back I remember musing at how surreal it was to be in this cemetery in the middle of town. It was legal for me to be here at 1AM and not 50 feet away was the early grave site of George Washington's 2nd in command, Nathanael Greene; a man who literally gave it all away for our country's birth. And just slightly up from my location was the plot belonging to Declaration of Independence signer, Button Gwinnett. At the time, his autograph was considered the rarest and most valuable in the world. Never mind that directly in front of me, I could sight and partially read the grave marker plaque of Teddy Roosevelt's great-great-grandfather, Archibald Bulloch; a man so fiercely patriotic, he declined going to Independence Hall as a signer because he felt his duty was to be on the front of things bubbling in Georgia. All of this was completely blowing the mind of my inner history buff kid who revered Williamsburg second to none but had found a new Holy City! I really wanted to run around, wake them all up, and ask them a ton of questions! But more than anything, this place spoke to something core existential that my spirit had been craving. I suddenly understood I wanted to live an existence close to the graves of my heroes — immersing myself in the streets and buildings they knew — and that these would be the sources for inspiring my personal art.
Little did I know, this moment would soon lead to the making of a story archaeologist, and the art I would make would be the stuff of graveside legend and not without controversy!
Starting March 15th 2020, I invite the public to join me in the reprisal of my original 1990s Savannah tour, The God's Acre Tour of Colonial Park Cemetery. This 2 Hour Tour will be offered daily and will be full of surprises. You'll soon see that this small patch of  cemetery with scattered graves and crypts is the richest story acreage in all of The Historic District!
                           http://www.GodsAcreTour.com
CHAPTER TWO COMING TOMORROW!