"Is there a house where something scared you?"
As simple and perhaps as obvious as it is? It's a good question. Especially when getting asked on a daytime cemetery or evening cemetery tour. Anymore I get asked this question or some variety of it by tourists who both have a keen interest in such subjects but who have undoubtedly read up a little on my background. For the record, I've conducted more ghost tours than any other figure in Savannah and I don't mind saying that aloud as in my heyday of doing them, I took the craft to an entirely new level by creating different ghost tours and inside of neighborhoods previously not toured that way. We're talking many thousands of tours between 1995 and 2012. I've also lived in one 1850s haunted Savannah home and have had unexpected psychical experiences in a few others without actively seeking them out. Which is what I try to remind people when I discuss the subject of hauntings. As I used to tell crowds, "I walk into a building the same way you do, through the front door." 
There was a day in my early life in Savannah, late 1980s & early 1990s, when there were no ghost tours. The many vacant buildings and eerily empty streets haunted Savannah on the precipice of the coming Tourist Boom. There was talk of ghosts yes, but no dedicated tours. Such spectral conversations had a sort of salon-quality around the dinner tables of the old Savannah-guard set. The 1980's classic by Margaret Wayt DeBolt, "Savannah Spectres," was mentioned on occasion like an odd cousin but often with a note of respect as a real source. Which it is and to Ms. Debolt's eternal credit is still a Top 10 seller in most area bookstores. I miss those purist hours really, but after I landed the America's Most Haunted City award for Savannah in 2002, the ghost tour culture took on a life all of its own that not even I anticipated. So yes, before my brain or the city was rife and saturated with such things, I just wandered around in old buildings as I'd always done since I was a young kid. A past-time that survives in my life to this very day.
Beyond Savannah, having worked for "Scariest Places On Earth," "Ghost Hunters," MTV's "FEAR" and ABC Family's "Real Scary Stories," I've researched and been inside of my share of haunted hospitals, asylums, castles, monasteries, forts and homes. The whole nine. But that was work and typically I never felt scared in them or by them. TV shoots seem to dilute such things for at least myself. Nothing makes a building less scary than a bunch of monitors, generators, lights, cameras, crew and people talking all of the time.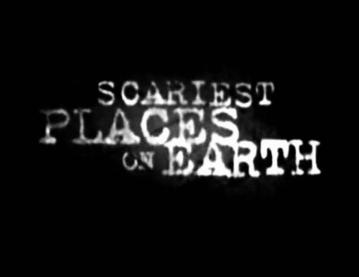 In my life, I've been party to dozens of ghosts hunts, including a weekend at Savannah's Marshall House the weekend before it officially opened and around the same time, organized the first investigation of The Moon River Brewpub ever conducted by a bona fide scientific organization, The American Institute of Parapsychology. Even so? Other than being fun social events with some interesting people and findings, bringing great attention to Savannah and in some cases, re-energizing businesses, the investigations themselves never much held my attention. I enjoyed it for others but at heart, I'm a solo artist. I like to go into old buildings alone or with one other person, feel them out for themselves without all of the gadgety stuff. I like to let buildings be themselves and reveal what they want to show me. You can't really do that in mixed company in my opinion. Or in the same way.
PART TWO of "The House That Scared Me Most" Tomorrow!